GERARD FLORIANO is an accomplished conductor whose passions include conducting orchestral, operatic, and choral repertoire.  Maestro Floriano maintains a busy schedule as artistic director, music director, music educator, and guest conductor having led concerts throughout Europe and the United States. He is the visionary force and Artistic Director of Finger Lakes Opera.  Now in its eleventh season, FLO is the premier summer opera experience for audiences in western New York and the Finger Lakes region of New York State.  Floriano has been described by the Rochester Democrat and Chronicle as "nothing less than a virtuosic conductor" who leads his orchestra "with color, precision and a welcome degree of sweep."   FLO's production of L'elisir d'amore garnered this acclaim from Rochester City Newspaper, "…Musical director and Finger Lakes Opera artistic director Gerard Floriano paced the whole show to perfection, and the orchestra had every Donizettian detail in place."
In 2023 Maestro Floriano will guest conduct performances of Mozart's Requiem in Ravenna and Mantua, Italy with Cappella Musicale della Basilica San Francesco, as well as lead concerts in Vicenza, Parma, and Venice with the Geneseo Chamber Singers.  In the summer of 2023, Maestro Floriano will lead Finger Lakes Opera's spectacular 10th anniversary season.  Highlights will include the world premiere of up-and-coming young composer B.E. Boykin's opera, Two Corners, for which Finger Lakes Opera was the recipient of a prestigious Commissioning grant from Opera America, as well as a thrilling new production of Verdi's Aida.
Recent performance highlights saw Maestro Floriano lead momentous performances of Beethoven's 9th, and Mozart's Requiem, as well as six critically acclaimed concerts throughout Spain with the Geneseo Chamber Singers. Under Floriano's artistic leadership, Finger Lakes Opera moved to an entirely virtual platform during the pandemic, featuring over 15 virtual performances as well as his newly created video podcast series entitled:  Great Voices of the 20th Century which highlight historic opera recordings from the 20th century, as well as a video series entitled: Behind the Curtain,  in which he brings back some of FLO's stage directors for in-depth interviews with an focus on the creative process.  Recent live performances saw Maestro Floriano leading a new production of Rossini's Il barbiere di Siviglia as part of Finger Lakes Opera's 2021 season and a 2021 performance Haydn's Lord Nelson Mass with the Geneseo Festival Singers and Symphony Orchestra.
As an esteemed music educator whose inspirational work with young musicians spans more than three decades, Floriano has guest conducted all-state ensembles from Montana to New York and this season will lead the Geneseo Chamber Singers in a spotlight performance at the 2022 New York State Music Educator's Winter Conference.  Floriano has been honored by the State University of New York, achieving the rank of Distinguished Service Professor at SUNY Geneseo where he also serves as Chair of the Department of Music and Director of Choral Activities.  Additionally he is a recipient of the SUNY Chancellor's Award for Excellence in Scholarship and Creative Activity.  Other conducting positions have included fellowships at the Aspen Summer Music Festival and the Oregon Bach Festival, Resident Conductor at the Brevard Music Center and Co-artistic Director of Mercury Opera Rochester.  Floriano lives in upstate New York with his wife Joan who is also a highly respected performer and master music educator.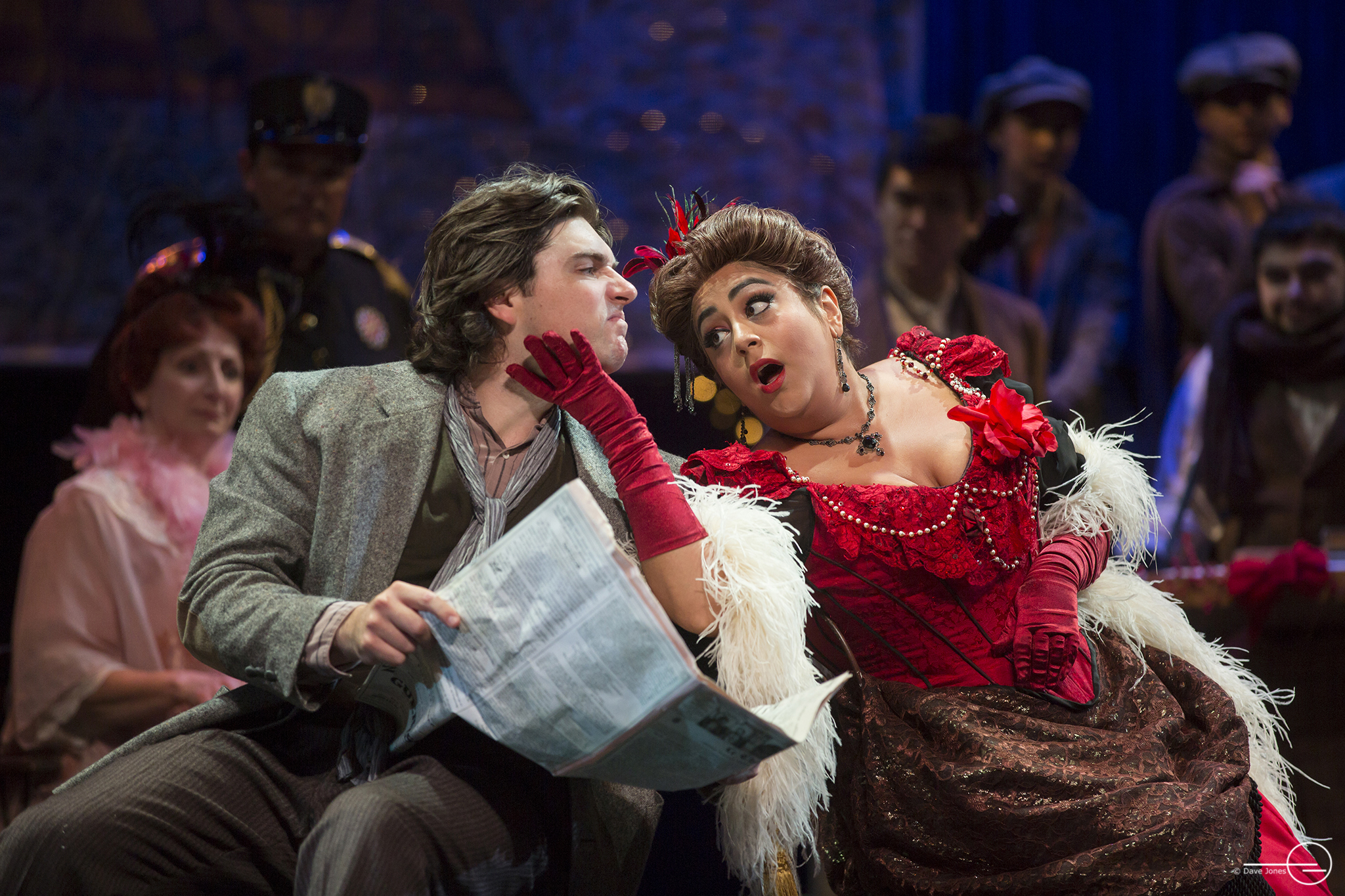 Nothing less than a virtuosic conductor who leads his orchestra "with color, precision and a welcome degree of sweep.

ROCHESTER DEMOCRAT AND CHRONICLE
(top) Il Barbiere di Siviglia
Finger Lakes Opera 2021
Director: Stephanie Havey • Music Director/Conductor: Gerard Floriano
Scenic Design: Charles Murdock Lucas • Costume Design: Mary Farmer
Lighting Design: Derek Van Heel • Sound Design: Michael Lawrence
Photography courtesy: Charles Murdock Lucas
(inset) La Boheme
Finger Lakes Opera 2019
Director: Michael Ehrman • Music Director/Conductor: Gerard Floriano
Scenic Design: Michael Laswell • Costume Design: Mary Farmer
Lighting Design: Brian Barnett